Lessen & Workshops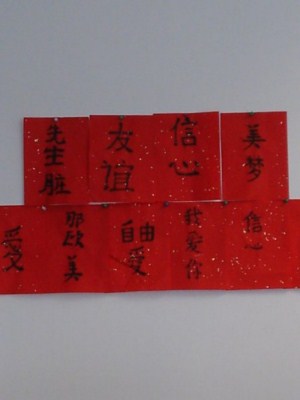 Online Chinese les
18 euro per uur! Per Skype, Facetime, of Google Hangouts. Heb je tijd over? Leer extra Chinees, makkelijk vanaf thuis!
U kunt direct starten!
Chinese taal cursus voor groep
Max: 8 personen, Min 5 personen
Iedere 1e maandag v.d. maand in Rotterdam
Tijd: 19.00 uur t/m 20.30 uur

Cursus kan ook in Amsterdam (data in overleg) bij aanmelding van groep van tenminste 5 personen, we beschikken over een cursus locatie.

De groep zal starten als er genoeg mensen zijn. De kosten bedragen 60 euro p.p. voor 4 lessen. Andere dagen of plaatsen kan ook, neem daarvoor contact op.
Voor Bedrijven
Zaken doen in of met China? Een cursus voor uw bedrijf en uw medewerkers is ook mogelijk. In overleg stellen maak ik dan een lesprogramma. Zo kunnen de beginselen van de Chinese taal worden geleerd, maar bijvoorbeeld ook een introductie in de cultuur en het land. Een waardevolle les voor u en uw medewerkers voor succesvol zaken doen in China. Neem contact op voor de mogelijkheden.
---